The world operates in really funny, astounding ways sometimes. I met Jaime in 2014 in Vashisht, India. It was 6 in the morning at a rooftop restaurant, where I was eating momos and chai. We connected instantly, bonded over our Canadian backgrounds and stayed in touch. That same year, I reunited with her and met her fiance, Shuvi, in Israel. We photographed their engagement session on a nude beach.
Fast forward to their wedding at Trout Lake Community Centre in Vancouver this summer. They were relentless in making their dream wedding come true and put their heart and soul into organizing a celebration that was DIY, community-oriented and intimate. Nearly everything was put together, created, cooked and organized by family and friends. It was remarkable and to top it all off it was woodland-themed so people were invited to dress up in costumes!
When you scroll down you'll notice Jaime & Shuvi dressing up a couple of different times in T-Rex costumes. They decided that for their first dance, instead of playing some romantic slow song they'll dress up in tyrannosaurus rex costumes and dance to hip hop. Shuvi was adamant on doing that because they first got to know each other while being at a music festival. They met up at a PJ Harvey set, and while dancing naked starting incorporating T-Rex moves. He was SO determined to find and wear a tyrannosaurus rex costume because he wanted to honour that first time when they connected. How freaking romantic AND REAL is that?! His lady finally gave in. They surprised all of their guests and even though it might have sounded like an absolutely crazy idea beforehand - hands down it has become my favourite first dance at a wedding EVER.
Jaime & Shuvi are two of the most spirited, vivacious, mischevious, and joy-filled people that I know. The story starts off with an intimate session at Whistler & Blackcomb mountains in beautiful British Columbia. Just the two of them, their joie de vivre and me to document it all.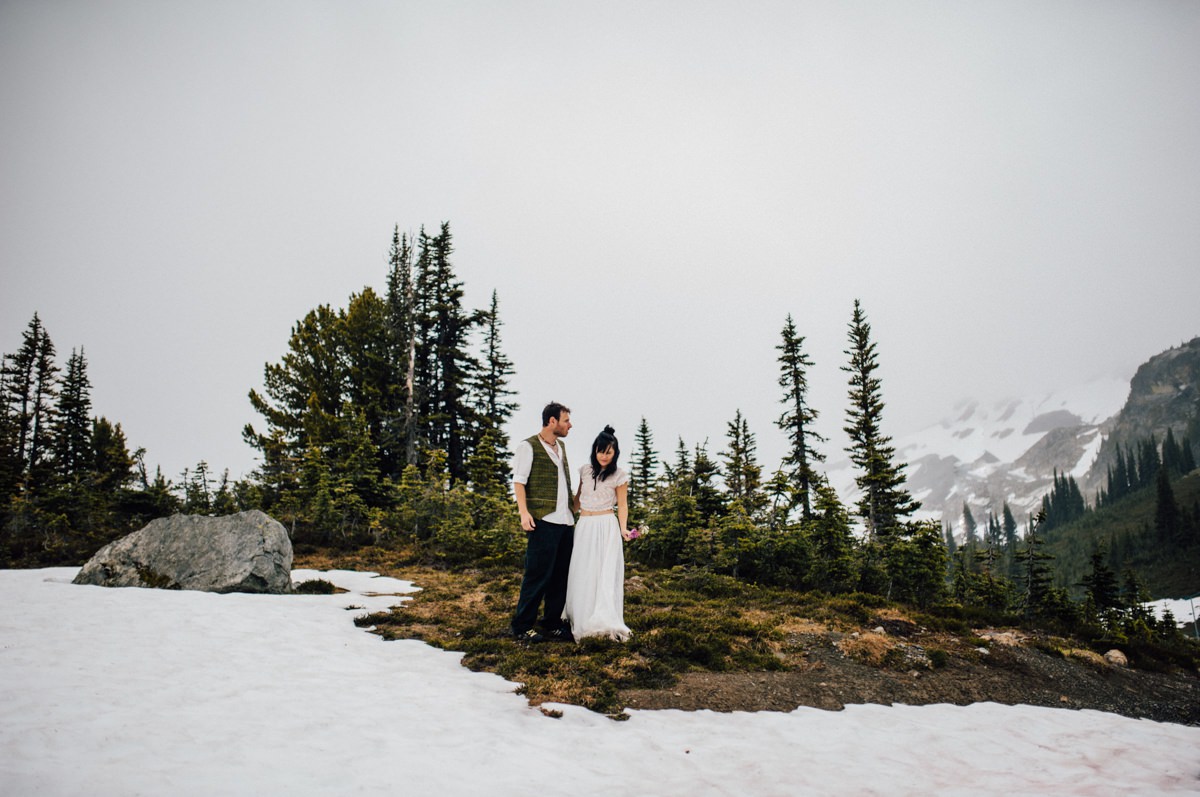 Life has a funny way of offering fleeting moments of sheer magnificence. On the way down from Blackcomb mountain we took the gondola and spotted a bear. Time froze as I gazed in awe at the creature right below me. It was a beautiful thing to experience.
Woodland themed wedding
Below is Jaime & Shuvi's joyful celebration at Trout Lake in Vancouver. I hope this story will inspire you the way it's inspired me!